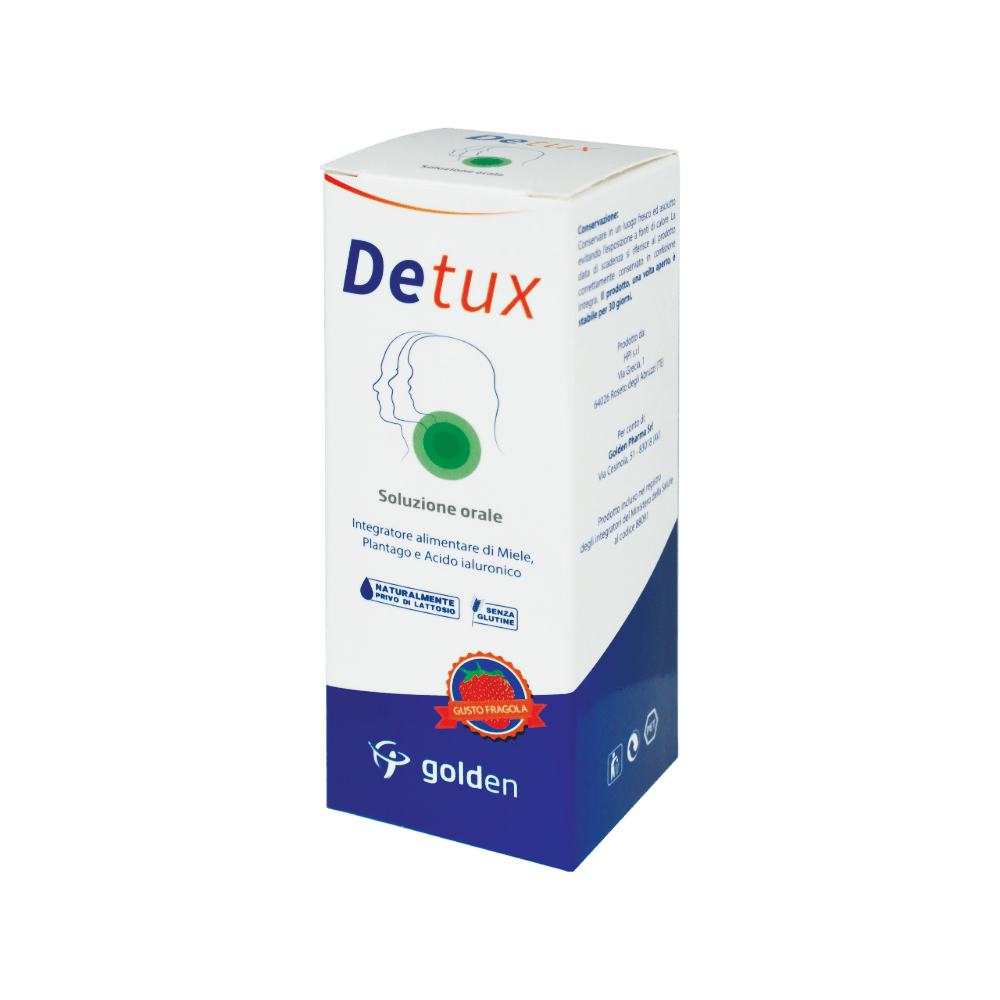 Summary of Product Characteristics (SmPC)
Detux is a dietary supplement based on Italian Honey, Plantago lanceolate and Hyaluronic Acid. It is recommended in case of low nutritional support or need of high demand of these nutrients. Plantago lanceolate is known for its emollient and soothing action on oropharyngeal mucosa and the tone of voice. It also supports the functionality of the upper respiratory tract and the mucous membranes of the respiratory system.
Children 1-6 years: 5 ml 2-3 times daily.
Children 6-12 years: 5 ml 3-4 times daily.
Adults and children over the age of 12: 10 ml 3 times daily.
Keep out of the reach of children under the age of three. Do not exceed the recommended daily dose. Food supplements should not be used as a substitute for a varied and well-balanced diet and a healthy lifestyle. In case of sensitivity to one or more ingredients, do not take the product. For the use of the product in children under the age of 3, it is advisable to consult a doctor. Do not use Detux under one year of age. Any deposits on the bottom of the bottle are due to the use of natural ingredients and do not affect the quality of the product. It is advisable to shake well the flacon before use. Gluten Free. Lactose Free.
Store in a cool, dry place. Avoid exposure to localized heat sources. The minimum storage term refers to the intact and properly stored product. Once opened, the product is stable for 30 days.
150 ml bottle with graduated measuring cup.
| Ingredient | Amount per dose (5 ml) |
| --- | --- |
| Italian Honey | 2000 mg |
| Plantago lanceolate dry extract titrated to 2% Verbascoside | 25 mg |
| Hyaluronic Acid | 20 mg |
*Carefully consult the product characteristics before purchase.
Buy it at the pharmacy or