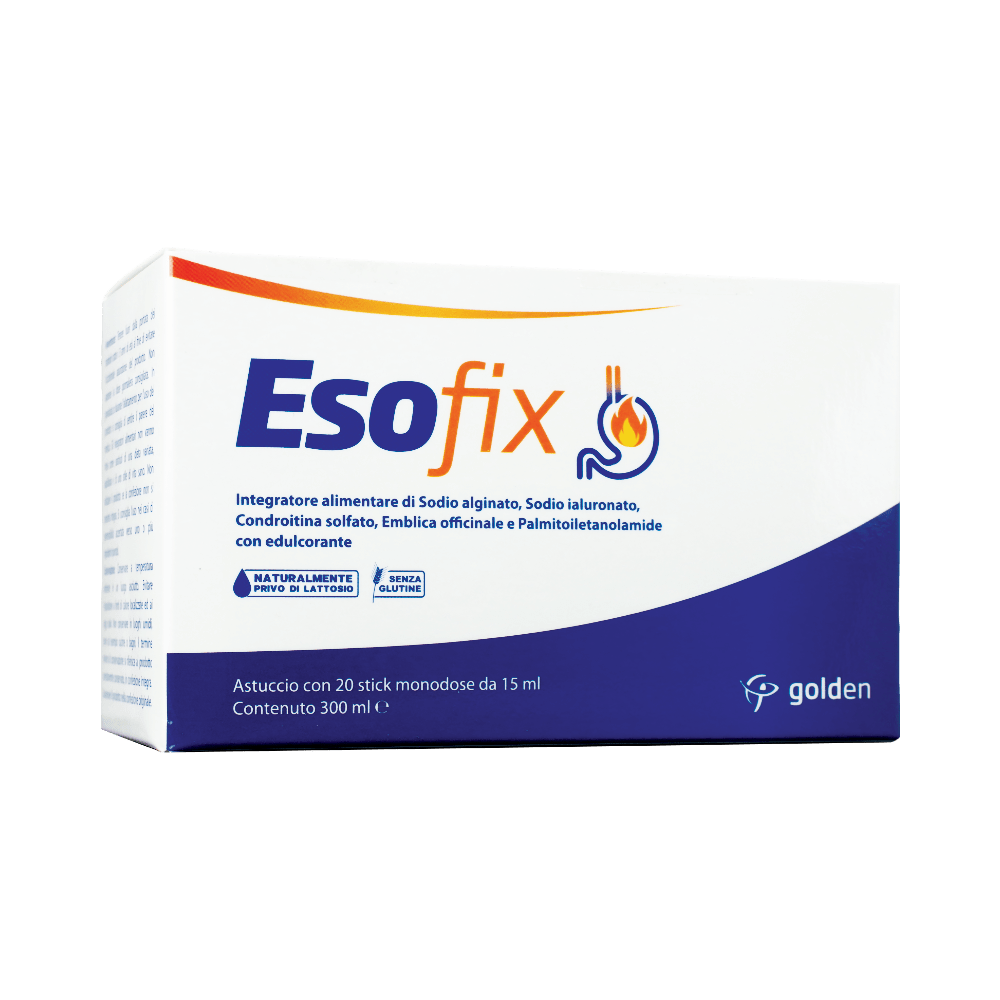 Summary of Product Characteristics (SmPC)
Esofix is a dietary supplement based on Sodium alginate, Chondroitin sulfate, Sodium hyaluronate, Phyllanthus emblica and Palmitoylethanolamide with sweetener. Phyllanthus emblica helps control gastric acidity.
It is recommended to take 1 stick after main meals and before bedtime, up to a maximum of 3 sticks per day. Open the single-serving stick and drink directly; it is recommended to avoid drink liquids for at least 30 minutes after taking the product.
Keep out of the reach of children under the age of three in order to avoid accidental poisoning. Do not exceed the recommended daily dose. If you are pregnant or nursing, consult your doctor before use. Food supplements should not be used as a substitute for a varied and well-balanced diet and a healthy lifestyle. Do not use the product if the packaging is not intact. In case of sensitivity to one or more ingredients, do not take the product. Sugar Free. Gluten Free. Lactose Free.
Store in a cool, dry place. Avoid exposure to localized heat sources and sunlight. Do not store in damp places, such as kitchens or bathrooms. The expiration date refers to the intact and properly stored product. Store the product in the original packaging.
20 Single-Serving Sticks (15 ml each)
| Ingredient | Amount per 3 sticks (15 ml each) |
| --- | --- |
| Sodium alginate | 1500 mg |
| Chondroitin sulfate | 450 mg |
| Sodium hyaluronate | 375 mg |
| Phyllanthus emblica | 300 mg |
| Palmitoylethanolamide (PEA) | 150 mg |
*Carefully consult the product characteristics before purchase.
Buy it at the pharmacy or