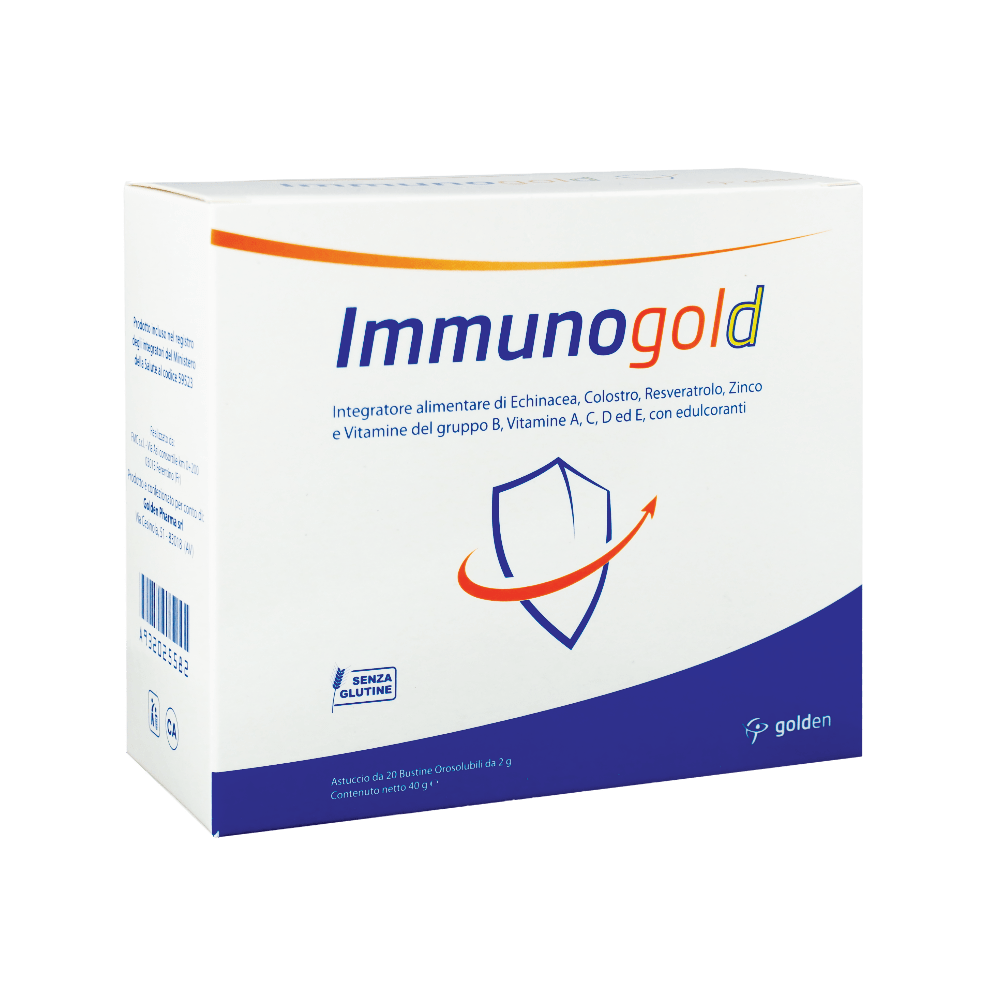 Summary of Product Characteristics (SmPC)
Immunogold is a dietary supplement based on Echinacea, Colostrum, Resveratrol, Zinc and Vitamins. Echinacea supports the body's natural defences. Vitamins A, C, D, B6, B12, Folic acid and Zinc contribute to the normal function of the immune system. Moreover, vitamins C, B1, B2, B3, B5, B6 and B12 contribute to maintain the normal energy metabolism.
Children (over the age of 3): 1 sachet daily to be dissolved in a glass of water or directly in the mouth. Adults: 2 sachets daily to be dissolved in a glass of water or directly in the mouth.
Keep out of the reach of children under the age of three in order to avoid accidental poisoning. Do not exceed the recommended daily dose. If you are pregnant or nursing, consult your doctor before use. Food supplements should not be used as a substitute for a varied and well-balanced diet and a healthy lifestyle. Do not use the product if the packaging is not intact. In case of sensitivity to one or more ingredients, do not take the product. Due to the nature of the ingredients contained, the product may vary in appearance from batch to batch; this does not affect the quality of the product. Excessive consumption can have laxative effects. Sugar Free. Gluten Free.

Store at a temperature between 5°C and 25°C in a dry place (RH<50%). Avoid exposure to localized heat sources and sunlight. Do not store in damp places, such as kitchens or bathrooms. The expiration date refers to the intact and properly stored product. Store the product in the original packaging.
20 orosoluble sachets (2 g)
Ingredient
Amount per 1 sachet
%NRVs (in 1 sachet)
Amount per 2 sachets
%NRVs (in 2 sachets)
Echinacea angustifolia
Of which Echinacoside
60 mg
2,4 mg
–
–
120 mg
4,8 mg
–
–
Colostrum
50 mg
–
100 mg
–
–
Vitamin C
40 mg
50
80 mg
100
Vitamin B3
8 mg
50
16 mg
100
Vitamin E
6 mg
50
12 mg
100
Polygonum cuspidatum
Of which Resveratrol
5,102 mg
5 mg
–
10,204 mg
10 mg
–
–
Zinc
5 mg
50
10 mg
100
Vitamin B5
3 mg
50
6 mg
100
Vitamin B2
0,7 mg
50
1,4 mg
100
Vitamin B6
0,7 mg
50
1,4 mg
100
Vitamin B1
0,55 mg
50
1,1 mg
100
Vitamin A
400 mcg
50
800 mcg
100
Folic acid
100 mcg
50
200 mcg
100
Vitamin D
10 mcg
200
20 mcg
400
Vitamin B12
1,25 mcg
50
2,5 mcg
100
¹ VNR: Valori Nutritivi di Riferimento
*Carefully consult the product characteristics before purchase.
Buy it at the pharmacy or